Managed Backup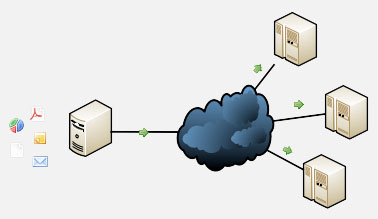 Backup solutions for enterprise require a full solution. We don't backup just one PC or sell you licenses one PC at a time. We provide a solution that backs up your entire company on quarter-hourly basis offsite. Most solutions include an unlimited history you can roll back to. We provide a quote for your company or site that doesn't require license management, letting you grow or shrink as needed without changing your budget. We also monitor the backups for frequency, integrity and test restores. If the worst should happen, we can rush a hard disk with all your data out to you so that you don't spend hours downloading your data back again.
Managed Backup Features
We backup all your PC's
Offsite storage with unlimited history
Works over any Internet connection
Emergency delivery of hard disks
Offsite backup should be used as a complement to traditional tape or hard disk backup. It offers disaster recovery and generally simpler or quicker restoration of files. Our solution merges onsite backup with offsite replication - which happens in real time. Few other consultants can manage this trick without charging you outrageous amounts. You can back up with us safely and affordably.
We tailor our solutions to match your needs. If you are interested in pricing, please use our quote form so that we can generate an estimate.